For almost three decades, Adrian Segar has been designing and facilitating participant-driven and participation-rich meetings. His book, Conferences That Work: Creating Events That People Love, is the how-to manual for stepping outside the realm of the traditional conference model to create peer conferences, which are highly interactive, attendee-driven events that uniquely leverage attendees' expertise and experience.
And his new book, Event Crowdsourcing: Creating Events People Actually Want and Need – available in November 2019 – addresses how to create conference programs that reliably become what your attendees want and need—each and every time.
In this episode of the Leading Learning Podcast, Celisa talks with Adrian about the key elements of peer conferences, how they benefit attendees, and ways they address shortcomings of traditional conferences. They also discuss common obstacles to implementing the peer conference model and suggestions for how to effectively blend peer conferences with traditional conferences.
To tune in, just click below. To make sure you catch all of the future episodes, be sure to subscribe by RSS, Apple Podcasts, Spotify, Stitcher Radio, iHeartRadio, PodBean, or any podcatcher service you may use (e.g., Overcast). And, if you like the podcast, be sure to give it a tweet!
Listen to the Show
---
Read the Show Notes
[00:18] – A preview of what will be covered in this episode where Celisa interviews Adrian Segar, one of the foremost authorities on participant-led event design.
Reflection Questions
[01:56] – You might consider the reflections questions below on your own after listening to an episode, and/or you might pull the team together, using part or all of the podcast episode for a group discussion.
If you offer one or more place-based conferences, listen to the six shortcomings of traditional conferences that Adrian mentions. Which are your conferences most susceptible to? And are those shortcomings significant enough to warrant a change?
We ask Adrian about common obstacles to holding a peer conference. Which of the obstacles that Adrian mentions are you most likely to encounter? How might you overcome those obstacles?
[02:56] –Introduction to Adrian and some additional information about his background.
Adrian shares that designing and facilitating meetings is his fifth career (prior to this he was in academia/physics) and talks about what led him to begin creating meetings/peer conferences.
Shortcomings of Traditional Conferences
[06:53] –What do you see as some of the major shortcomings, or potential shortcomings, of traditional conferences, especially when it comes to learning?
Adrian identifies six major reasons that conferences need to change from the traditional events we're all used to:
The rise of online.
Lectures are a terrible way to learn anything.
What people really want to do these days is connect around learning (and traditional meetings don't tap that very well).
[11:41] –
Traditional conferences don't really tap the fact that today everybody has experience and expertise to share. But peer conferences allow you to discover quickly who the people are that might be able to help you.
There's been a massive change in the world of learning and how we learn what we need to know to do our jobs. Only about 10% (depending on the profession) of what you need to know for a job is learned in the classroom. Most of what you need to know is done through either self-learning or social learning—and Adrian would argue most of what we need to know, we learn from our peers, not in the classroom. So we need our conferences and meetings to match the way we actually learn on the job as opposed to how we've learned traditionally through human history.
Conferences need to be created where the content matter and learning processes are being developed in real time by the attendees at the event. This is because it's clear that prescheduled conference programs do a very poor job of addressing actual attendees wants and needs.
If you're running a traditional conference these days, the sad fact is that at least half the sessions you're offering are not what the people who come to your conference want—and that's if you've done a really good job.
Sponsor: Community Brands
[17:14] – If you are looking to change the technology supporting your learning business, check out our sponsor for this quarter.
Community Brands provides a suite of cloud-based software for organizations to engage and grow relationships with the individuals they serve, including association management software, learning management software, job board software, and event management software. Community Brands' award-winning Crowd Wisdom learning platform is among the world's best LMSes for corporate extended enterprise and is a leading LMS for association-driven professional education programs. Award-winning Freestone, Community Brands' live event learning platform, is a leading platform for live learning event capture, Webinars, Webcasts, and on-demand streaming.
Elements of a Peer Conference
[18:17] –What do you mean by that term—what is a peer conference?
Adrian explains that he likes to talk about peer conferences in context of a conference arc—conferences that have a really well defined process – beginning, middle and end.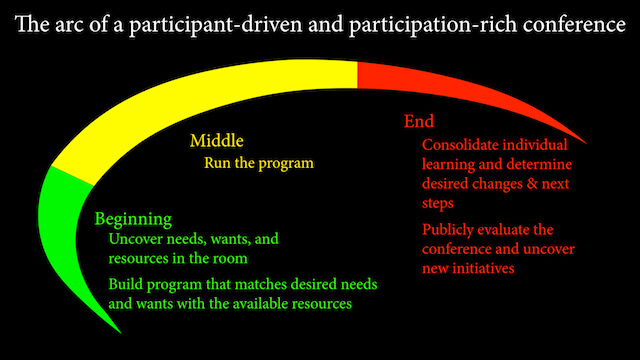 Beginning of a peer conference
The beginning of the conference is really important. What you need to do to create connection around content and creating connection can't be done artificially (with icebreakers, for example). There are multiple methods he describes in his book Conferences That Work, but essentially what has to happen at the start is you need to uncover three crucial things about people:
Why did they come to the conference? What motivated them including experiences of conferences they've had in the past.
What do they want the conference to be? Adrian often asks, "What would make this conference great for you?" Then each person has the opportunity to share individually with a group.
What experience or expertise do they have that might be useful to other people there?
Adrian explains how this initial process that he just described creates a huge body of information for the group to discover about what they actually want to talk about as well as identifies what resources are in the room.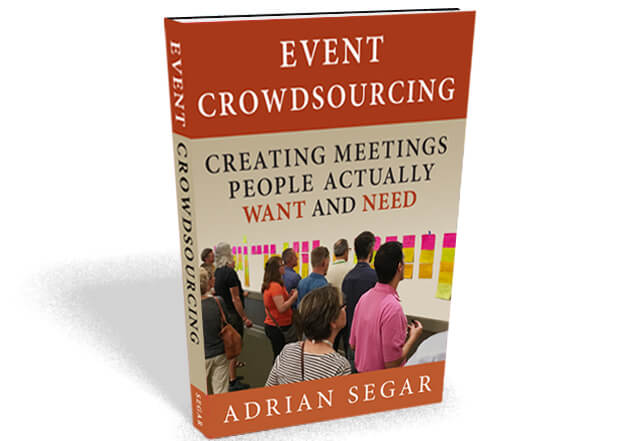 After this first (and very important) piece of the meeting, you need to have crowdsourcing occur. You take that information and use processes (which is the topic of Adrian's new book, Event Crowdsourcing: Creating Events People Actually Want and Need) to create a conference program that matches the needs of the attendees with the resources.
So you create a conference program that is optimized for the needs and wants and is fed by the resources/collective body of knowledge and experience in the room.
To learn more, see Adrian's post,The Conference Arc — the key components of every successful participation-rich conference.
[25:02] –In my recollection of Conferences That Work, you thought that 500 people may actually be too large for a successful conference—is that correct?
Adrian admits that when he wrote this book ten years ago, he was an amateur and knew nothing about the meeting industry. So there is a supplement to Conferences That Work (in fact there have been two) which has a very important section about how to extend the Conferences That Work model up to larger conferences of 500 or so.
He notes that the tricky part about this work is understanding what will scale and what won't scale. For example, conversation doesn't scale. But there are ways of doing events with hundreds of people and he'd argue that very large conferences are generally very poor places to create the kinds of intimate connection and active learning that smaller conferences have a much easier time doing.
The interesting stats are that the average size of a meeting in North America is 50-100 people—you just don't usually hear about these. Adrian points out that peer conference models work incredibly well and he'd argue are far more effective with small meetings than having a traditional meeting, so they are incredibly relevant.
[28:20] – Adrian continues the discussion of the parts of a conference/conference arc.
Middle of a peer conference
After the beginning you have the conference program so the middle of the conference is doing that program. But the one thing that's different is that the sessions are relatively informal and interactive. There are often a lot of discussion sessions where people are really interested in just sharing what they know to learn together.
Because many people haven't been to peer conferences, Adrian provides some very simple guidelines. These allow people who are leading the sessions to do so successfully and to avoid the common traps that people fall into that are suddenly asked to run a session. For example, feeling like they need to do all talking.
End of a peer conference
Adrian discusses two fundamental sessions he always has at the end of the peer conferences. He added them because they help to consolidate learning, create community, and create future outcomes (for both the individuals and the group):
Personal introspective– a guided two-part session where attendees first answer questions (individually) about what kind of change they want to make in their professional life as a result of attending the event. The second part of this, which is very powerful, is that people are put in small groups where they can share (confidentially) any aspect of what they wrote down to get feedback and support. This reinforces the likelihood that the change will actually happen.
Group spective – this is the opportunity for the group to look back on everything that's happened. Adrian usually starts this with a public evaluation of the meeting to create a public consensus of what the meeting was like. They start with the good stuff and then talk about ways to improve the event or what they should be doing that they aren't doing. This leads eventually to a discussion that leads to initiatives, which are powerful because they were created organically.
Obstacles to Peer Conferences
[36:05] –What obstacles to holding a peer conference do you encounter most that tend to stop or slow groups down from adopting that approach?
Adrian identifies four barriers:
The culture mindset. We've been doing conferences the same way for our whole lifetime and people tend to have low expectations of what the conference can do for them. And we are still in the culture mindset of having the teacher talk at kids in school with relatively little interaction between them. So it's hard to change that mindset and a majority of people don't understand how a peer conference could work unless they've experienced one.
Status issues. There are many conferences where if you're in higher education and want to get tenure, you have to be in front of the room giving papers a certain amount of the time. There's also a question of whether or not you should get continuing education credits at a peer conference, which Adrian argues are more valuable than a predetermined lecture on a particular topic (but that doesn't necessarily mean that certification boards agree).
Leadership perceived risk. Adrian often runs into situations where many people in an organization want to try peer conferences but the leadership team is reluctant and doesn't allow it to happen.
Getting the word out. The meeting industry is much more aware of participative and active learning, however when push comes to shove, most people go back to traditional models.
Blending: What Works, What Doesn't?
[43:08] – To address or compensate for these barriers, sometimes a group will try blending a traditional conference with a peer conference. What are your thoughts on the idea of blending and what have you seen that tends to work? And what hasn't worked?
Adrian shares that the biggest mistake people make is trying to offer a peer conference trackso it's going up against traditional conference sessions. And people tend to choose those because they know what they're getting. Then organizations make the assumption that nobody is interested in the peer conference model because not many people chose it.
So when blending any kind of peer conference elements, Adrian recommends that you ensure that nothing else is going on at the same time.
Areas for Improvement
[48:16] – You've been involved with peer conferences for about 27 years and been refining your process and the tools you use along the way. But where do you still see room for improvement? Where are you still trying to get things to work better or still looking for better processes?
Adrian recognizes that he doesn't have all the answers and that every time he does an event, he learns something. It's also the reason why Conferences that Work has had two supplements to improve the processes.
He points to adoption issues again, saying those are related to education and the more people that go to peer conferences, the more normal they will become as part of the conference experience.
Another hard nut to crack is that Adrian often gets asked to be involved in helping with peer conferences after the client has chosen the venue. And because effective peer conferences require spaces that allow interaction between people and active learning, he often has to work around limitations that could've been avoided if he was involved before the venue selection.
So he's working on educating clients that the design of the conference is something that needs to be addressed earlier on, before selecting the venue.
[53:52] – What is one of the most powerful learning experiences you've been involved in, as an adult, since finishing your formal education?
Adrian shares an experience of how he stopped dancing for 40 years after becoming self-conscious and how he ended up unexpectedly dancing at a workshop. This reminded him how much he loved it. This example highlights the power of experiential learning because he says if someone had lectured him about how much he used to enjoy dancing it wouldn't have changed anything—he had to experience it.
[56:54] –How to connect with Adrian and/or learn more:
[59:14] – Wrap-Up
Reflection Questions
If you offer a place-based conference, which of the six shortcomings of traditional conferences that Adrian mentions are you most susceptible to? Are those shortcomings significant enough to warrant a change?
If you were to pursue a pure peer conference format or blending peer conference aspects with your traditional conference, which of the obstacles that Adrian mentions are you most likely to encounter? How might you overcome those obstacles?
If you are getting value from the Leading Learning podcast, be sure to subscribe by RSS, Apple Podcasts, Spotify, Stitcher Radio, iHeartRadio, PodBean, or any podcatcher service you may use (e.g., Overcast).
We'd also appreciate if you give us a rating on Apple Podcasts by going to https://www.leadinglearning.com/apple. We personally appreciate your rating and review, but more importantly reviews and ratings play a big role in helping the podcast show up when people search for content on leading a learning business.
And we would be grateful if you check out our sponsor for this quarter. Find out more about Community Brands.
Finally, consider following us and sharing the good word about Leading Learning. You can find us on Twitter, Facebook, and LinkedIn. We also encourage you to use the hashtag #leadinglearning on each of those channels. However you do it, please do follow us and help spread the word about Leading Learning.
[1:01:24] – Sign off
See Also: