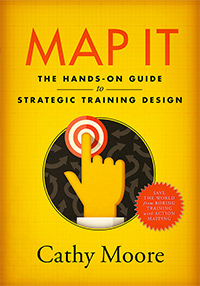 When it comes to training design, perhaps focusing on what people need to be able to do, not simply what they need to know, can make all the difference. That's because this leads to activity-centered training rather than traditional information presentations.
These concepts are what led Cathy Moore, speaker, training designer, and author of Map It: The Hands-On Guide to Strategic Training Design, to create the action mapping model. Her goal is to "save the world from boring instruction" and her tools and resources are helping to do this one learner at a time.
In this encore episode of the Leading Learning podcast, Celisa talks with Cathy about action mapping including what it is, why it's effective, and how to apply it. They also cover the role action mapping plays in measurement and evaluation and scenario design.
To tune in, just click below. To make sure you catch all of the future episodes, be sure to subscribe by RSS, Apple Podcasts, Spotify, Stitcher Radio, iHeartRadio, PodBean, or any podcatcher service you may use (e.g., Overcast). And, if you like the podcast, be sure to give it a tweet!
Listen to the Show
---
Read the Show Notes
[00:18] – For this episode, we're doing a slight revamp and replay of one of the most popular interviews from our past episodes, and this was a discussion Celisa had with Cathy Moore. For many of our listeners, Cathy will need no introduction – she is well known across the learning world as a writer, speaker, and training designer who is out to save the world from boring instruction.
oo:49 – Thank you to Community Brands, sponsor of the Leading Learning podcast for the fourth quarter of 2019.
Community Brands provides a suite of cloud-based software for organizations to engage and grow relationships with the individuals they serve, including association management software, learning management software, job board software, and event management software. Community Brands' award-winning Crowd Wisdom learning platform is among the world's best LMSes for corporate extended enterprise and is a leading LMS for association-driven professional education programs. Award-winning Freestone, Community Brands' live event learning platform, is a leading platform for live learning event capture, Webinars, Webcasts, and on-demand streaming.
[01:37] – Highlighted Resource – a collection of Action Mapping resources created by Cathy Moore.
[02:08] – A preview of what will be covered in this podcast where Celisa interviews writer, speaker, and internationally recognized training designer, Cathy Moore.
[03:38] – Introduction to Cathy and some additional information about herself and her work.
The Action Mapping Model
[04:43] – Action mapping is one of the things you're best known for. For those who might not be familiar with the model, would you explain it?
Cathy explains that action mapping is a model that helps us avoid doing information dumps and to create more activity-centered training. It starts with the question, what measurable improvement do we want to see in the organization as a result of this training? In the case of an association, it would be, what measurable improvement do our learners want to see in the performance of their organization or in their personal lives?
When you start with that, you can then list what it is that people actually need to do on the job to achieve this change—so you avoid jumping immediately to what they need to know and instead list what they need to do—and ask what makes it hard to do. This leads to things such as practice activities rather than information presentations. In those activities you can link, or provide optionally, the information learners may need. The result is a very activity-focused experience and the learners have the freedom to pull as much information as they need rather than everybody having to sit through the same information presentation.
[06:27] – The way you lay out the action mapping model strikes me as hard to argue with—it just makes sense. That said, I feel like there's room for growth in the applying the model. Why aren't action mapping and practice activities more the norm? Is it just a lack of knowledge? What are the barriers you see to adoption?
Cathy points out it's more of a cultural issue—a lot of people think that training is teaching and therefore training should be a delivery of information followed by a knowledge check. In the world of professional, continuing education that's really entrenched because we are focusing on certificates or hours that people spend in class rather than what they can do. So she says it's a mindset shift and it's a scary shift because we are so familiar with the information, delivery, and testing model.
[08:13] – So how can we begin that cultural shift? Do you have some tips in terms of how to do this rather than the information-focused or time-based approach to fulfilling specific requirements?
Cathy points out it's actually easier in the corporate world for an internal training project because the benefits and goals of practice activities are easy to demonstrate and prove. In the association or certification world, it's really a bigger risk because the market is paying for CEU's/credits. She says she would see it herself as a differentiator—everybody else is designing materials that present information and have you regurgitate it on a test, however we design these realistic practice activities that have you actually practice doing the "thing" that's necessary to learn.
Applying the Action Mapping Model
[09:51] – Most of our listeners don't have direct access to their learners in the workplace—they aren't corporate training departments. What advice—or cautions—do you have for them when thinking about how they might apply action mapping?
A few things Cathy suggests doing are to:
View the material/project or market need from the perspective of the learner.
Consider producing a minimal viable product to develop a handful of activities on this topic you think is useful to them and see how well they sell/how well they're received.
Make sure that your subject matter expert (SME) has recently –or is currently – doing the job that this is supposed to help people do. And ideally have more than one SME that can answer the question, what do they need to do? And more importantly, what makes it hard?
Action Mapping and Measurement & Evaluation
[13:48] – Measurement and evaluation can be tough areas to tackle, as it's all too easy to measure the insignificant dimensions—the typical smile sheet, Level 1 type reaction—and neglect the impact of learning. But since action mapping ties any learning intervention really tightly to results, I think that it would be helpful in the measurement and evaluation of those learning interventions. What are your thoughts on how best to measure and evaluate the impact of learning?
Cathy notes again that it's easier in the corporate world than it is in the association world because a corporation doing an internal learning project can directly measure the effect. Because you need to view it from the market or learners, you should identify a measure they might have access to and set that as your goal. Ideally, after the learning intervention – which she notes is more than a course because practice activities are a form of spaced practice – you can check it again. So maybe do a pre-test and post-test activity to see what they've learned based on what they can do not what they know.
Scenario Design
[17:17] – Scenario design is another area where you've focused your work because scenarios can be a particularly effective type of the practice activities the action mapping model calls for. How do you approach scenario design, and what common mistakes or missteps do you see with scenario design?
Cathy shares she's been running a scenario design course/event for several years so she sees all the mistakes—some of the very common ones are not having a specific, clear, in-depth, highly contextual understanding of the task that people are supposed to practice. That means you need to have SME's that are there on the job that can report what makes it hard and what challenges people are facing. It also suggests that you create a prototype and test it on actual learners.
You need to identify what that the correct thing to do is, and why it's hard to do, what the common mistakes are and why they are so tempting, and the consequences to each of these options. In the association world, Cathy says it's tempting to create generic courses because you're trying to cover one thing for everyone but you're much better off with scenarios to have a super specific example.
[20:21] – The idea of scenario design makes me think of learner personas a bit and perhaps that can be an effective tool in figuring out which scenarios are going to fit. Do you work with learner personas much?
Cathy does recommend using them but she's also very careful to distinguish learner personas from the perspective of marketing which is we have a view of our learner as a person and we make up one learner that represents them. So you need to be clear about what the term means.
[22:24] – What's on the horizon for the design of learning? Are there any big developments or changes you think we'll see in learnig design in the coming years or that you hope we'll see?
What Cathy hopes to see is less focus on delivering and testing information and more focus on designing practice activities supporting practice in the real-world and on the job mentoring. Cathy admits she is a technology skeptic and she'd rather see an interest in creating practice to drive the technology we choose. There are some tools she likes that help to design practice activities such as Twine which is a free tool to help you write scenarios and produce and deliver them.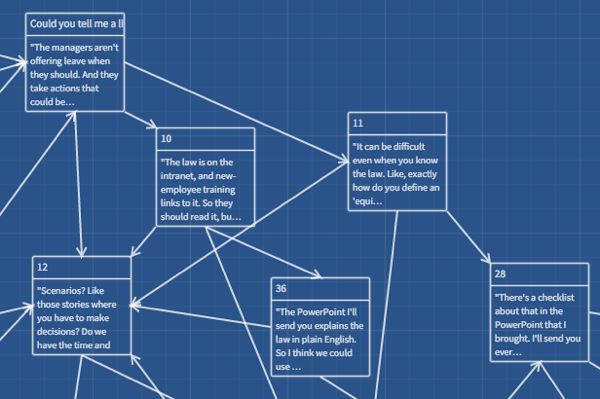 [24:18] – What is one of the most powerful learning experiences you've been involved in, as an adult, since finishing your formal education?
Cathy shares in the early 2000's, she wanted to design a super energy efficient, solar house. This involved a lot of learning and a huge number of decisions to make. It ended up being a project-based learning experience and she even made a website about it to report everything she was doing and why which solidified the learning even more—and opened her up to critiques. This helped her make decisions and then defend them as well which helped in the learning process, all things you can do with learners in practice activities because it also improves metacognitive skills.
[28:12] – How to connect with Cathy and/or learn more about her work:
Website: https://blog.cathy-moore.com/
[28:55] – Wrap Up
If you are getting value from the Leading Learning podcast, be sure to subscribe by RSS, Apple Podcasts, Spotify, Stitcher Radio, iHeartRadio, PodBean, or any podcatcher service you may use (e.g., Overcast).
We'd also appreciate if you give us a rating on Apple Podcasts by going to https://www.leadinglearning.com/apple. We personally appreciate your rating and review, but more importantly reviews and ratings play a big role in helping the podcast show up when people search for content on leading a learning business.
And we would be grateful if you check out our sponsor for this quarter. Find out more about Community Brands.
Finally, consider following us and sharing the good word about Leading Learning. You can find us on Twitter, Facebook, and LinkedIn. We also encourage you to use the hashtag #leadinglearning on each of those channels. However you do it, please do follow us and help spread the word about Leading Learning.
[30:38] – Sign off
If you like this episode, you may also want to listen to: