As president at The Thiagi Group, Matthew Richter is a recognized expert and thought leader in the areas of management, leadership, and performance technology. He wears many hats including that of speaker, facilitator, game designer, instructional designer, management consultant, and author of The Leadership Story: A New Model of Leadership. He's also the co-host of the Truth in Learning podcast, along with previous podcast guest, Will Thalheimer.
In this episode, Celisa talks with Matt about motivation and self-determination theory in the context of learning. They also talk about the elements of effective learning games, why lazy trainers are a good thing, and the importance of activities in learning and in designing faster, cheaper, better training. Lastly, they delve into the topic of leadership and Matt's view that most leadership training is pretty worthless and what he recommends to focus on instead.
To tune in, just click below. To make sure you catch all of the future episodes, be sure to subscribe by RSS, Apple Podcasts, Spotify, Stitcher Radio, iHeartRadio, PodBean, or any podcatcher service you may use (e.g., Overcast). And, if you like the podcast, be sure to give it a tweet!
Listen to the Show
---
Read the Show Notes
[00:18] – A preview of what will be covered in this episode where Celisa interviews Matthew Richter.
Reflection Questions
[01:21] – You might consider the reflection questions below on your own after listening to an episode, and/or you might pull the team together, using part or all of the podcast episode for a group discussion.
Matt talks about the role of autonomy, competence, and relatedness as factors in motivation. What are you doing and what might you do better to support those three factors in the design and delivery of your learning products and services?
Matt offers four ideas for how to realize the trifecta of faster, cheaper, and better when it comes to designing learning products and services. Which of the four might you be able to try?
[02:05] – We'll also mention that Matt and Will Thalheimer are running The L&D Conference June 22-July 31, 2020. It's entirely online, of course, and features both asynchronous and synchronous learning events throughout the six weeks for an in-the-workflow experience so attendees can enhance skills, network, and participate in deeper learning than standard, old-fashioned conferences.
If you decide you want to attend, we can get you at least a 20% discount if you reach out to us. Drop us a note at info@leadinglearning.com.
[03:01] – Introduction to Matt.
Motivation and Learning
[04:07] – I know motivation is an interest of yours—and you're a fan of Edward Deci and Richard Ryan, as I am, and we devoted an earlier episode to the book Why We Do What We Do: Understanding Self-Motivation. Thinking about motivation in the context of learning, what suggestions do you have for learning businesses and the educational products and services they're designing and delivering?
Matt first reveals that he was actually lucky enough to have been a grad student with Deci and Ryan and that they've truly influenced how he lives his life. He says self-determination theory isn't just a way of thinking about motivation, but in many ways it's kind of a blueprint to "understanding why we do what we do".
Because of this, Matt recommends that you:
Always have a purpose. There should always be some connection/rationale for why people are taking a course or trying to learn a new skill. The more people understand the meaning and the value of something, the more they can volitionally engage with the material. In other words, they feel and experience autonomy. They can freely choose to learn the material and see the value of it.
Think about competence. If you're trying to build knowledge and skills, you want to make sure that people experience the course in a way that they feel like they can do it and that they can improve throughout the experience. People have to have a sense of getting better.
And to do that, you don't want to put them through a boring experience where they become complacent and disinterested. But alternatively you also don't want to frustrate them to the point they are incapable of actually learning from a knowledge and ability standpoint.
Add an affiliative or relatedness component. If doing a program, allow learners to engage with the people around them and develop relationships through a cohort. Allow them to feel a sense of belonging to the organization who is providing them with the training. There has to be some sense of involvement—you have to pull people in and get them to feel like they're part of a bigger thing.
Matt notes that in training and development, this is where we spend a lot of time talking about engaging learners, but this is only one aspect of that. The other aspects around supporting autonomy and supporting competence are just as important.
[07:51] – So perhaps do you think autonomy, competence, and relatedness are ways to engage learners?
Matt says yes and that when you're doing a design it's important to really think about how you're increasing the overall competency of the individual.
So what activities are you providing that give them a chance to see something, act on it, practice it, get feedback, try it again, etc.?
What resources are you putting into the environment for them to leverage as they go through the experience?
How are you giving them a chance to fail but in a safe way so that they can see what good and bad look like?
From an autonomy standpoint, Matt notes it's that connection back to purpose, meaning, and relevance.
But there points out there are also facts of life. We have to do things sometimes that we don't necessarily want to do (intrinsically). So we have to look at whether there are ways for us to really connect for them a purpose for doing it.
He says you can't just rely on people having a good time. Sometimes we have to experience things we don't want to do and there are still ways to be autonomy-supportive in that.
Games Designed for Learning
[09:36] – Talking about motivation with you brings to mind games, games designed for learning. What do you see as the legitimate purpose—or purposes—of games that support learning? What works well with games for learning? What are, perhaps, some pitfalls to avoid?
Matt points out that a training game is very different from a game that you might buy at a game store. He explains that a training game is a game that follows all the rules of a structured game. But good training games:
Have a learning outcome.
Are easy to learn. Simplicity is very important.
Don't rely on a lot of props.
Should be flexible and not so rule oriented (because the game is an excuse to reach the learning outcome). Celisa and Matt discuss how they've seen K-12 get caught up in being too rule-oriented.
Can be modified on the fly.
Leadership as a Story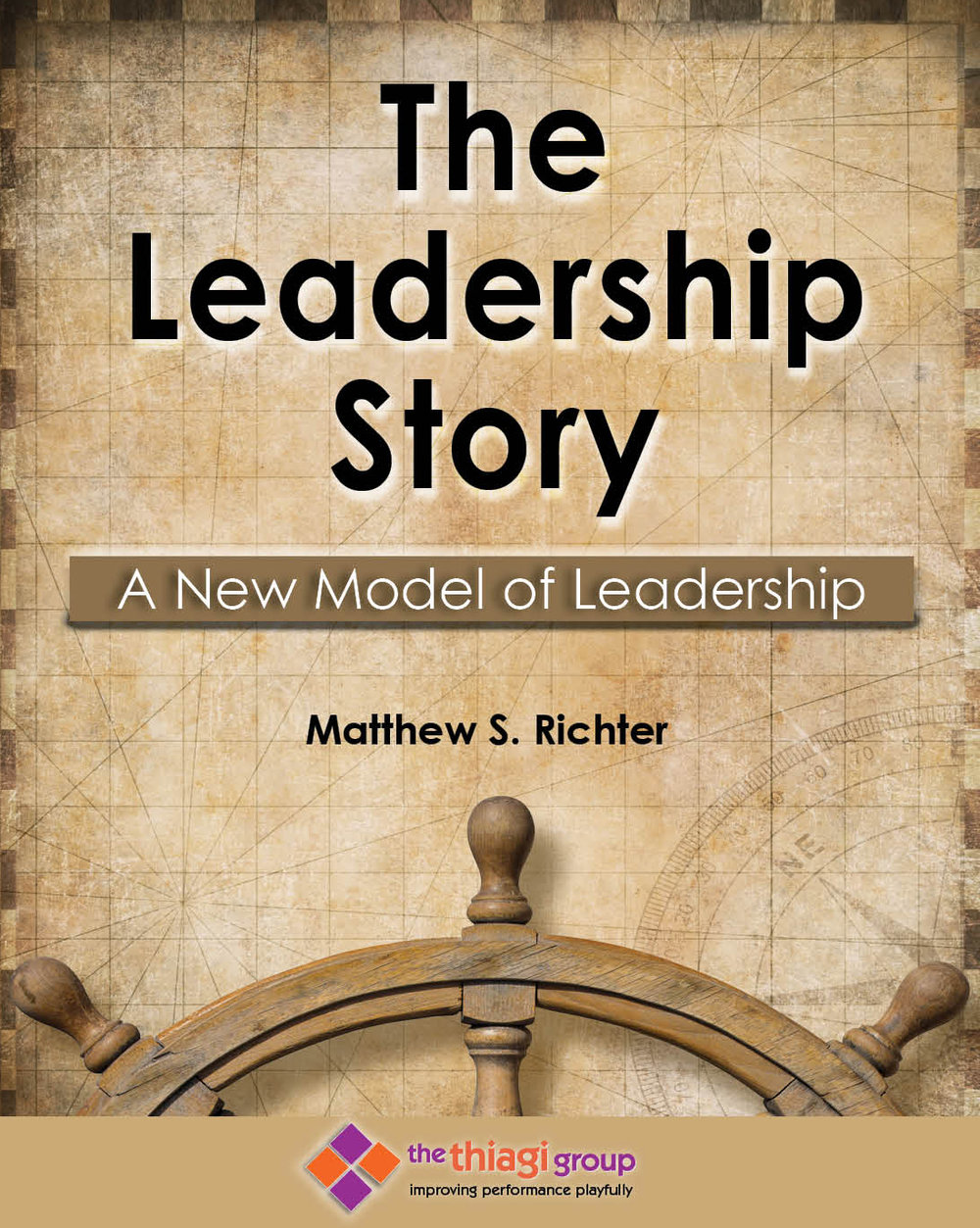 [13:33] – Leadership is another area you've done some work in and you wrote The Leadership Story: A New Model of Leadership. I was interested in the idea of leadership as a story vs. a set of competencies. What do you mean when you say leadership is a story we tell?
Matt shares that this idea came to him when he read Sapiens: A Brief History of Humankind by Yuval Noah Harari where he talks about the notion that the only species on the planet that has the ability to both adapt and collaborate in large numbers is human beings. And Harari says the reason for this is because we've created narratives, myths, and stories.
For example, money. It's really just a social construction that we've made up and is a shared narrative.
For this to happen, Matt explains that the extrapolation is that you need some people to convey and tell these stories to get a large number of people coordinating, collaborating, and adapting through those stories—and those are leaders.
To me, leadership is really about that coordination, that adaptation, that narrative creation—getting people to mobilize from point A to point B. You do that through storytelling. You do that by getting people excited. You do that by getting them to think where you're describing is a better place than where they are. That's leadership.
Reasons Leadership Development Isn't Effective
[16:24] – Do you have thoughts on the implications of leadership-as-story in the context of a learning business? Either for how leaders run their learning business or some aspect of it, or what they might need or want to do differently to better serve their learners?
Matt admits that he strongly believes leadership development is kind of waste of time and money. He references the book, Leadership BS by Jeffrey Pfeffer which talks about all the research that's been done showing that leadership development has failed. And one of the reasons leadership development fails is because it's often taken out of context. So one function of good leadership is context.
Matt says that perspective is also really important. It requires leadership moments to have passed for us to identify them as having been leadership because very rarely do we identify someone as a great leader in the moment.
It's only after the leader has done something that we see that she's done it. Or that we want to follow her for the next time.
Lastly, Matt talks about how there is a component of time and how our views of leadership change over time.
The distance of time, the perspectives we have, and the context really influence how we understand leadership. And what this means as developers of leaders is that it's a moving target. It means it's nebulous. It means that what works today won't work tomorrow.
Matt shares (anecdotal) evidence of this related to coaches for American football and asks how many of them have won the Super Bowl more than once with multiple teams. He recalls there are none and that they instead move to another team.
Their skills haven't changed, their perspectives have probably gotten even better, but the context is so different that they're unable to do it.
Because of this, Matt recommends that we instead train people how to read a budget, how to develop—and communicate—a strategy, and on the specific skills that we see executives need.
He says forget calling it "leadership" and look at it as "executive acumen", which he thinks would bring more success.
Faster, Cheaper, and Better Training Design
[21:26] – At The Thiagi Group, you embrace the idea that you can have faster, cheaper, and better training design—not the usual pick-two-of-the-three. I'm guessing that everyone listening would love for that to be true—for them to be able to design faster, cheaper, and better. What principles or suggestions can you offer for how they might realize that trifecta?
Matt first notes that all of this comes from Thiagi's (Dr. Sivasailam "Thiagi" Thiagarajan, founder at The Thiagi Group) brain. He says he is one of the founding thought leaders in performance improvement and that he's been really focused on how we use interactivity as way of increasing stickiness, get people to retain information, practice, get feedback, etc.
Some key principles to recognize faster, cheaper, and better training design Matt shares are:
Build the airplane while you fly it. When you're doing design you have to constantly try it out, so Matt suggests if you have a class, to just go ahead and run it. Then modify it on the fly and build it as you go. In the learning and development setting, he says skip the pilot and just teach people.
Let the inmates run the asylum. In other words, if you let the participants do the work—and you truly believe the mantra that collectively they are all probably smarter than you—then you have the ability to leverage activities wrapped around content and can let them do all the work.
She who does the most talking learns the most. Let them do most of the work. Matt believes in lazy trainers noting they are probably the best because they are doing the least amount of work and effort.
Wrap activity around content. This is the notion that content is everywhere so leverage it and wrap activities around it. Thiagi has identified 66 different categories of interactive strategies and each of these have hundreds of different games associated with them. Using activities means you can use the frame of that activity and insert your content (over and over again). That means you're going to be faster and it probably means you're going to be more effective too.
Also, it's cheaper because you don't have to spend all that much time doing it. But Matt talks about how he's still shocked that many trainers still aren't interested in this approach and that even though we know lecturing isn't nearly as effective, we still find it everywhere.
For trainers who are reluctant to embrace this approach, he recommends that they just try it and see what happens. And if it works really well, embrace it.
[26:54] – What is one of the most powerful learning experiences you've been involved in, as an adult, since finishing your formal education?
Matt references an experience he had in grad school that really stuck with him (even 25 years later) involving a seminar that either Richard Ryan or Edward Deci ran on different psychological theories.
Every week they were presented with a problem and each person would be assigned one of the perspectives to be ready to debate from the following week. Matt shares how he had so much difficulty with this every week but that it's now one of his favorite frames to use because it forced him to look from different perspectives and see how other thought leaders considered the same problem.
[29:15] – How to connect with Matt and/or learn more:
[30:09] – Wrap-Up
Reflection Questions
What are you doing and what might you do better to support autonomy, competence, and relatedness in the design and delivery of your learning products and services?
Which of the four ideas Matt offers for designing faster, cheaper, and better training might you apply?
If you are getting value from the Leading Learning podcast, be sure to subscribe by RSS, Apple Podcasts, Spotify, Stitcher Radio, iHeartRadio, PodBean, or any podcatcher service you may use (e.g., Overcast) as it helps us get some data on the impact of what we're doing.
We'd also appreciate if you give us a rating on Apple Podcasts by going to https://www.leadinglearning.com/apple. We personally appreciate your rating and review, but more importantly reviews and ratings play a big role in helping the podcast show up when people search for content on leading a learning business.
Finally, consider following us and sharing the good word about Leading Learning. You can find us on Twitter, Facebook, and LinkedIn. We also encourage you to use the hashtag #leadinglearning on each of those channels. However you do it, please do follow us and help spread the word about Leading Learning.
And again, if you're interested in The L&D Conference Matt and Will are putting on, drop us a note at info@leadinglearning.com so we can offer you, as a podcast listener, a 20% discount.
[32:13] – Sign off
See Also: